Forward this message to a friend
February Newsletter 

 
New Fashion Trends:
We've Got You Covered!

The "IT" color:

Tangerine Tango

 

From The Pantone website:

Tangerine Tango, a spirited reddish orange, continues to provide the energy boost we need to recharge and move forward.

"Sophisticated but at the same time dramatic and seductive, Tangerine Tango is an orange with a lot of depth to it," said Leatrice Eiseman, executive director of the Pantone Color Institute®. "Reminiscent of the radiant shadings of a sunset, Tangerine Tango marries the vivaciousness and adrenaline rush of red with the
friendliness and warmth of yellow, to form a high-visibility, magnetic hue that emanates heat and energy."

And, of course, those who know me know I LOOOOOOVVVE orange. This one is awesome. It's the perfect accent color for all your basic wardrobe

colors – black, brown, white and more. All eyes will definitely be on you when you're wearing this
Tangerine Tango sterling silver bracelet. Just one of several new pieces of jewelry (with more to come) soon to be appearing from
fatdogbeads.

 

 
 

Geometrics: A fresh angle

 

According to ELLE Magazine: It's hip to be square this season–or rectangular, or octagonal, or trapezoidal. In fact, the more shapes the better according to design houses like Balenciaga and Celine,

which turned to YSL for geometric inspiration when it came time to

build their fall collection

For earrings – that means long lines with interesting angles.
Lightweight, in sterling silver, or silver colored copper, or in one
of several copper shades. Each is handmade (by me) and a true original. They are formed separately…so no two pairs are the same.
You can even custom-order your length! Just let me know.

• Coming soon: i'll be testing out some colored wires for these angled
earrings. Stay tuned! Visit my etsy shop to see more. Non- sterling
silver earrings priced from $13-$15. Sterling from $22 and up.
 

From NYC Fashion Week:
Spring 2012 Trend: Pastel Shades

From GLAMOUR online: If wild, look-at-me hues aren't your thing,

worry not: New York Fashion Week's most esteemed designers have got

your back.(And your front. And your legs. You get the picture).

Spring's sweet sorbet shades and pastel hues give off a low-key,

ladylike vibe.

Carolina Herrera, Narciso Rodriguez, Spring 2012

The big question – what do you wear with these soft and romantic
pastels? My suggestion – something, anything, with shimmery, shiny
dichroic beads in it. Dichroic beads are lampwork beads that seem to
be lit from within. While they come in a rainbow of colors, I
reccomend sticking to the pale, pale pastel colors.

FYI – most of the dichroic beads I purchase are from two artisans –
Dee Howl Beads from Hawaii…and the very talented Paula Radke (whose
beads/jewelry are seen in many national chain stores).A pair of
dichroic beads are seen in the geometric earrings, shown above.
I use small (sometimes as small as tiny seed beads) dichroic beads as
accent piece in a lot of my jewelry. But I also have a few bracelets
and necklaces that feature larger beads.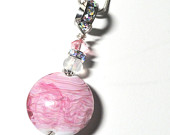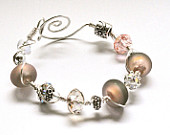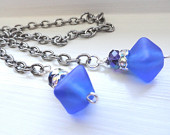 IN THE WORKS: a GNO (girls night out) cocktail party and jewelry show. Watch for news. A chance to drink wine, eat chocolate, catch up with friends (or make a few new ones). Jewelry will be on display for you to play with, try on, purchase. But I'm just happy to see everyone – so come just for fun!
Something to consider – if you have jewelry that's broken, missing pieces, whatever – bring it with. I may be able to use the pieces to make something new and wonderful for you to wear!

Get social with us!
---
---
fat dog beads
4031 la france rd
lafayette hill, pa 19444
US


Read the VerticalResponse marketing policy.